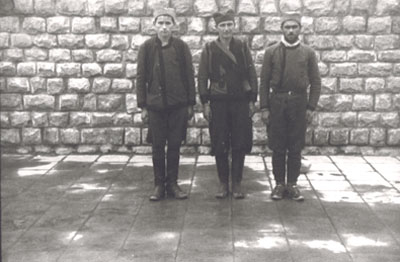 Many Yugoslav partisans had been captured while serving in partisan units and were later deported to Gusen via Mauthausen. (photo credits: Courtesy of Museu d'Història de Catalunya, Barcelona)Following its surrender in April 1941, Yugoslavia was divided into different zones of influence. In the territories occupied and annexed by Germany and within the borders of the newly founded vassal state of Croatia, Slovenes, Serbs, and Jews were subjected to persecution, resettlement, and killings. Military resistance movements directed against the occupying forces and their collaborators arose in the form of the "Yugoslav Peoples Liberation Army" in Serbia and Croatia, as well as the "Slovene Liberation Front".
The first deportees from Yugoslavia, most of them Slovenes, presumably entered Gusen round the middle of 1942. Subsequent transports brought Serbs and Croats and, from September 1943 onward, also prisoners from those parts of Slovenia formerly occupied by Italy. The largest number of Yugoslav prisoners arrived at Gusen in 1943/44.
Out of a probable total of 3.200 Yugoslav prisoners at Gusen at least 1.300 died. Approximately 900 Slovenes deported fro Italy were released from the camp at the turn of the year 1943/44. On the eve of liberation, 854 remained in the various Gusen camps.