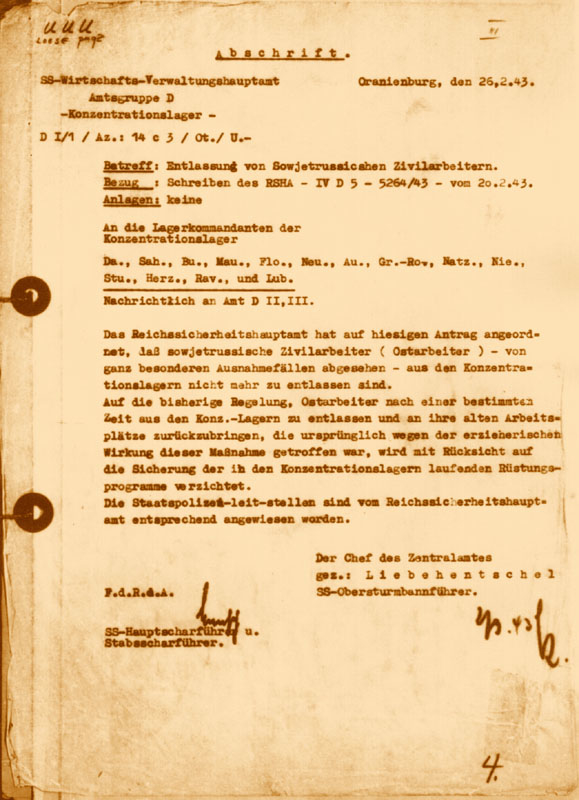 Memorandum from the Head of Office D at the SS Economic Administration Headquarters to concentration camp commanders, dated 26th February 1943. The directive states that "with regard to ensuring the continuation of the ongoing armaments programmes at the concentration camps" Soviet civilian workers "would no longer be released from the concentration camps." (Mauthausen Memorial / Collections)
Although ideological considerations had originally precluded the use of Soviet civilians for work purposes, labour shortages eventually resulted in the deportation to Germany of Soviet citizens – mainly Ukrainians and mostly women - starting in early 1942. They were kept isolated in separate 'camps for workers from the east' ("Ostarbeiterlager") where the living conditions were hardly better than at the concentration camps. Escape attempts or being accused of 'refusing to work' or of sabotage would cause the prisoner to be sent to a concentration camp. Other Soviet civilians would be deported directly from Soviet territory to concentration camps based on political reasons.
Around the middle of 1942, the first male Soviet civilians entered Gusen, including several hundred youths, who were to be trained as apprentice stone masons. Until the beginning of 1944, their number remained constant at the comparatively low figure of 1.000. With the growing armaments industry at Gusen, however, transports of Soviet civilians underwent a marked increase from early 1944 onward.
Villainised as "Bolsheviks" and "Slavic sub-humans", Soviet prisoners were at a considerable disadvantage in the camp. Out of a probable total of 9.000 Soviet civilians interned at Gusen, at least 2.700 died there.