Camp Commander Karl Chmielewski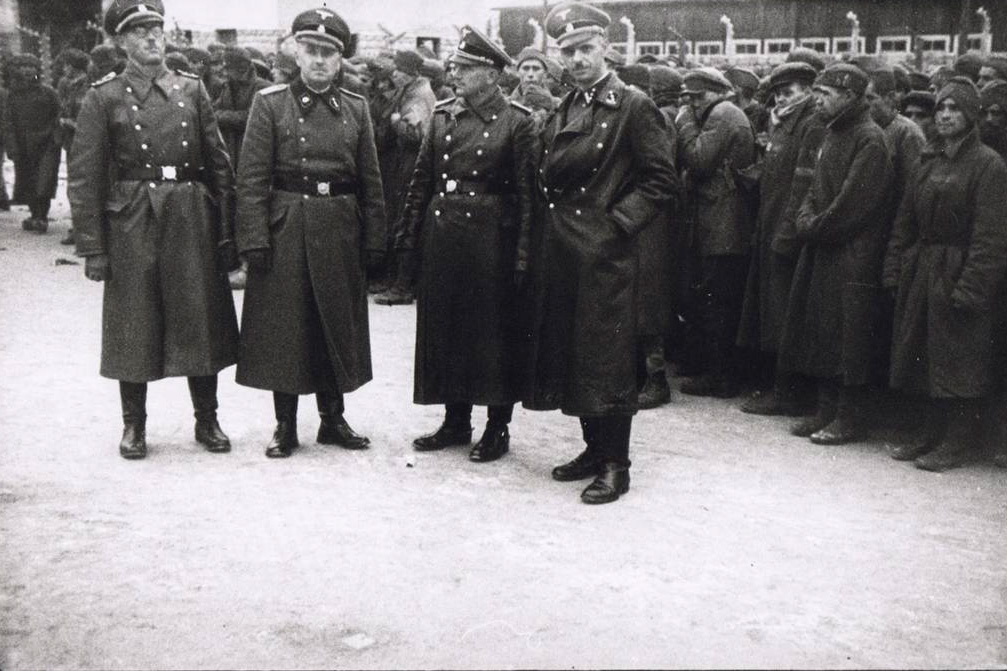 Camp commander Karl Chmielewski (right) and other SS-officers in front of soviet POW at the roll-call Square in Gusen; picture taken between March and October 1942, "Erkennungsdienst" Photographs. (photo credits: Museu d'Història de Catalunya, Barcelona)Karl Chmielewski (b. 1903), having failed to finish school, first tried a career as a sculptor and in advertising. In 1933, he joined the SS. He became a police officer at Munich police headquarters, joined Himmler's staff, and was eventually a member of the headquater staff of the Sachsenhausen concentration camp. At the beginning of 1940 he was transferred to Mauthausen where he oversaw the construction of the Gusen concentration camp, subsequently becoming its first commander. Chmielewski did not only order the killing and torture of prisoners, he also personally participated in their murders and abuse.
Chmielewski could rely on his subordinates to act in accordance with his wishes even without direct orders. To make them entirely dependent on himself, he also gave the prisoner functionaries far reaching powers over their fellow inmates.
In late 1942, he was again transferred, this time to the command of the concentration camp at Herzogenbusch. Ten months later, a SS court accused him of embezzlement and the rape of female prisoners. In the summer of 1944 he was sentenced to 15 years and imprisoned at Dachau concentration camp. At the time of the liberation, he held the post of camp elder in the subsidiary camp of Allach. He lived under a false identity but was discovered and arrested when he sought to remarry. In 1961, he was sentenced to life imprisonment for his personal involvement in 293 homicides. Chmielewski died in 1991, twelve years after his release from prison.