Deutsche Erd- und Steinwerke GmbH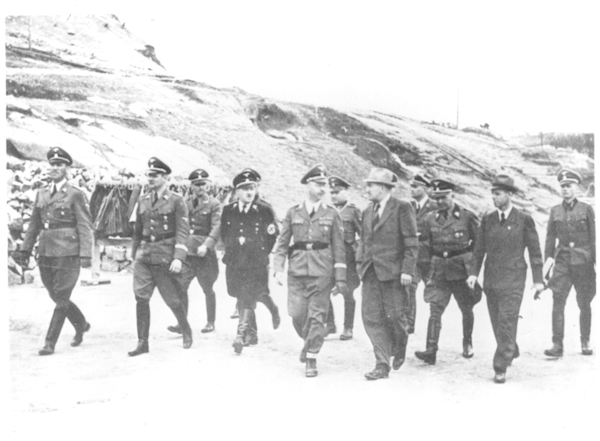 Reich Chief of the SS Heinrich Himmler (5th from left) during an inspection of the Kastenhof Quarry, accompanied by Ernst Kaltenbrunner (1st from left), at this time a Senior SS and Police Commander in Vienna; Karl Wolff (2nd from left), Head of the Personal Staff of the Reich Chief of the SS; August Eigruber (4th from left), Reich Governor of Oberdonau; Karl Mummenthey (6th from left), Head of Section W I (Stone and Earth) at the SS Economic and Administrative Office; Kurt Paul Wolfram (6th from left), Operations Manager of the DESt in Gusen, 1941 (photo credits: KZ-Gedenkstätte Mauthausen / Collections)Deutsche Erd- und Steinwerke GmbH. (DESt.) was the first large-scale enterprise of the SS. The corporation was founded in April 1938 to supply the building material needed for the representative buildings of the Third Reich. The SS used their involvement in the industry to justify the continuing expansion of the concentration camp system while at the same time ensuring access to KZ inmate labour. Part of the rationale behind this was the desire to provide the SS with an economic base.
Their search for suitable quarries eventually brought the SS to the granite quarries of Mauthausen and Gusen. The "Granitwerke Mauthausen" (Mauthausen Granite Works), as the largest branch of DESt. was called in Gusen and Mauthausen, was to produce freestones on a large scale.
In the first few years, forced labour at Gusen concentrated on the development and extension of the quarries. The prisoners were ordered to establish an extensive infrastructure including stonemason halls, administrative buildings, a cable crane system, a large rock crusher, and a link-up to the railway network around the camp. In St. Georgen, construction of the administrative and residential buildings for DESt. began in 1940.
At this stage, the SS used the forced labour of KZ prisoners to pursue both political as well as economic goals. Terrorizing the prisoners was part of the day-to-day work and camp routine. At the same time, all their efforts went into expanding the quarries and they repeatedly demanded an increase in production. As the high mortality rate among prisoners lead to repeated labour shortages, however, the production of stone fell far behind original expectations.
From 1943, work in the quarries became of lesser importance. For the most part, the growing profits of DESt. at the time resulted from its cooperation with the arms producers. The Steyr-Daimler-Puch AG. and Messerschmitt GmbH., along with several minor cooperation projects, as with the Army Depot in Vienna, which sent its vehicles to Gusen for repair, likewise contributed to growing DESt. profits.
The camp had 20,732 prisoners on 26 April 1945 who had been deployed as 16,988 work details: a mere 1,957 prisoners worked in the quarries, 4,884 in the manufacturing lines of Steyr-Daimler-Puch AG., 9,329 in the mines of Gusen II and the manufacturing operations of Messerschmitt GmbH.