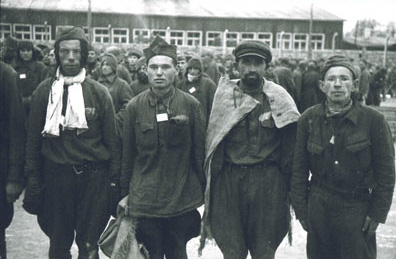 Soviet prisoners of war on the Roll-call square in Gusen, October 1941 (photo credits: SS-photo, Courtesy of Museu d'Història de Catalunya, Barcelona)A few months after the attack on the Soviet Union, the first Soviet prisoners of war (POW) entered the concentration camps. In accordance with Hitler's personal directive, the political functionaries among Soviet POWs were destined for immediate execution. Sorted out in the Wehrmacht's POW camps, they were either killed on the spot or transferred to the concentration camps for execution. Those who were granted a stay of execution were used for forced labour.
The first Soviet POWs selected for labour purposes arrived at Gusen in October 1941. Until the summer of 1943, their housing and organisation was kept separate from the rest of the camp population. While their death may not have been the primary intention, the great majority of the ca. 4.400 Soviet POWs deported to Gusen until autumn 1943, fell victim to the horrendous conditions at work and in the camp coupled with systematic starvation.
During 1944/45, at least another 2.000 Soviet POWs arrived at Gusen. The camp physician's death book lists more than 3.000 deceased Soviet POWs, the true figure probably exceeded 4.000.