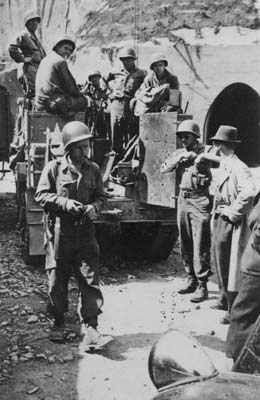 55th Infantry Battalion in front of the "Bergkristall" tunnels in St. Georgen, 5th of May 1945 (photo credits: Mauthausen Memorial / Collections)On the morning of 5 May 1945, a patrol of 23 men from the 41st Cavalry Squadron under the command of Sgt. Albert J. Kosiek was sent from Katsdorf south in order to spy out an enemy position and to examine the state of the bridge across the river Gusen near St. Georgen.
A few hours later, entirely unexpectedly and contrary to their original mission, these troops entered the concentration camps Gusen and Mauthausen as liberators.
From the account of Albert J. Kosiek, in: "Thunderbolt", 1955:
"From the distance there was suddenly the muffled sound of a motor. The men in our vehicles immediately alerted themselves. Through the field glasses we were able to pick up a motor cycle and a white touring car with a red cross on the hood. (...). Out of the car stepped two SS captains, the driver and a man dressed in civilian clothes. The civilian was an International Red Cross Affiliate and the spokesman for this unholy mob. (...) From what we could determine from these people there was a large concentration camp beyond the bridge that we were supposed to check. The Red Cross man was trying to contact an American General to surrender this camp (...)."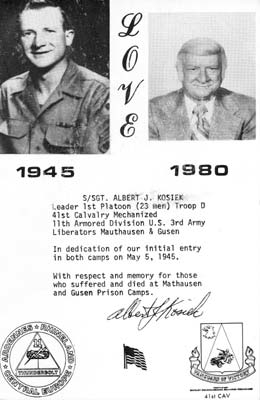 Sgt. Albert J. Kosiek, commander of the 23-headed patrol of the 41. Cavalry Squadron, that liberated Mauthausen and Gusen. (Mauthausen Memorial / Collections)Luis Häfliger, Swiss delegate of the International Red Cross, who had stood up for the early release of concentration camp prisoners even prior to liberation, knew of rumors regarding the supposed SS plans to annihilate the prisoners at Gusen concentration camp. Together with SS Obersturmführer (Lieutenant) Guido Reimer of Mauthausen, he set off to make contact with US troops and to pilot them to Gusen and Mauthausen.
Kosiek and his troops came across sub-camp Gusen III in Lungitz before they met Häfliger. Passing through St. Georgen, they were first of all led to Gusen II and then to Gusen I. The troops stayed in Gusen only briefly and then continued on to Mauthausen. On their way back, in late afternoon, they disarmed some 800 guard detachments of the 'Feuerschutzpolizei' (Fire Protection Police) in Gusen, who offered no resistance. Together with around 1000 Fire Protection Police from Mauthausen they took them as prisoners of war to Gallneukirchen, the headquarters of Combat Command B.