2023 Commemoration Ceremonies in Gusen and St. Georgen
06.05.2023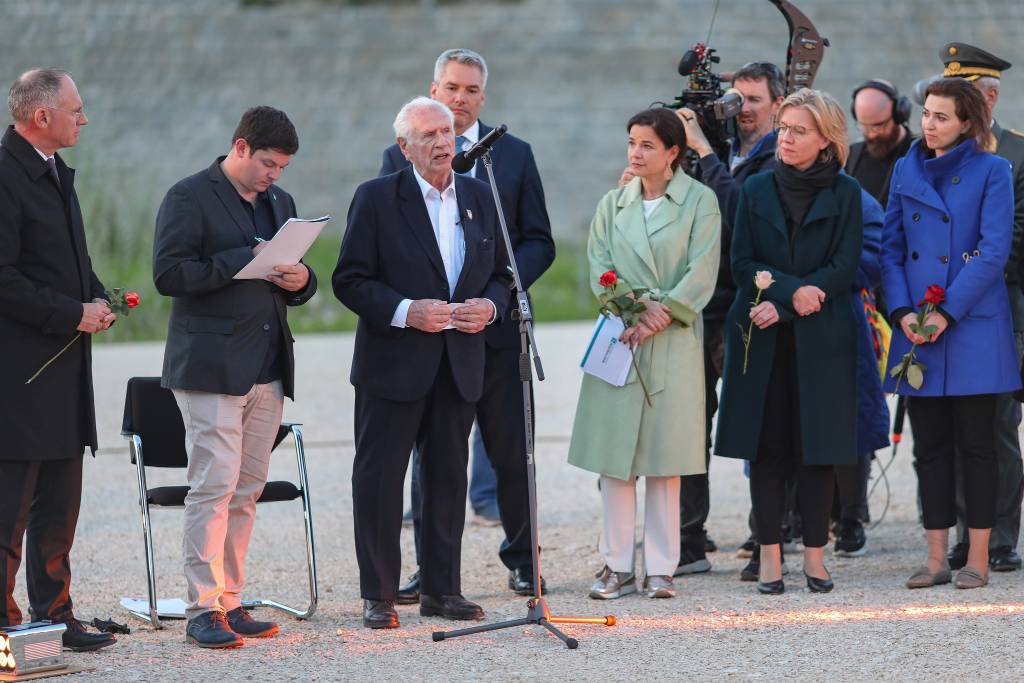 The commemoration event began with a guided memorial tour in Mauthausen that included members of the Austrian Federal Government. During this tour, victims' biographies were read out around the sarcophagus on the roll call area.
The second part of the event involved the survivor Stanisław Zalewski, representatives of national and international victim organisations and memorial initiatives, and local residents. It was held on the former roll call square in Gusen in the neighbouring town of Langenstein.
The event focused on the content of the participation process to expand the Gusen Memorial. Taking the values of 'tolerance', 'respect' and 'encounter', which had come up repeatedly in the different participation formats, participants in the process and representatives of different victim groups formulated a vision for expanding the site.
Standing alongside Federal Chancellor Karl Nehammer and National Council President Wolfgang Sobotka were Stanisław Zalewski, Guy Dockendorf, president of the International Mauthausen Komittee, Dani Dayan, president of Yad Vashem – The World Holocaust Remembrance Center in Israel, Bishop Manfred Scheuer, Oskar Deutsch, president of the Jewish Community, Christian Aufreiter, mayor of Langenstein, Martha Gammer, Gedenkdienstkomitee Gusen, Ulrike Springer, Jehovah's Witnesses, Christian Klippl, president of the Cultural Association of Austrian Roma, and Dominic Floh, one of the young people involved in the participation process.
The different visions and wishes expressed here were representative of the variety of viewpoints already identified and recorded in the participation process.
Stanisław Zalewski said: 'I wish for this memorial site to be resistant to the winds of history, meaning to the socio-political changes taking place all around the world. And for all current and future nations and generations to understand this place.'
The commemoration event continued in the entrance area to the 'Bergkristall' tunnel system in St. Georgen an der Gusen, where the names of tens of thousands of victims of the Mauthausen-Gusen concentration camp system were projected in light and simultaneously read out as part of the installation #eachnamematters, produced in cooperation with Ars Electronica. This light and sound installation foregrounds the identity of each individual victim.